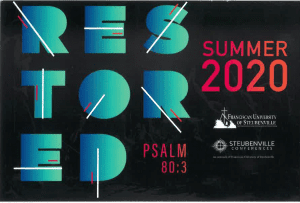 ATTENTION  8TH GRADERS, CONFIRMATION & HIGH SCHOOL YOUTH
Steubenville Orlando Youth Conference – Rosen Shingle Creek
July 17-19, 2020
Space is LIMITED! We only have 30 reserved spots for St. Peter, unless more students register NOW  FIRST YEAR CONFIRMATION STUDENTS ARE ASKED TO SIGN UP.
How to sign up
Fill out the registration form along with $75.00 non-refundable deposit.
Payments can be made on the remaining balance of $275.00.
Your participation in upcoming fundraisers will reduce your final cost.
Contact Jenny Mansingh at jmansingh@stpeterdeland.org for any questions.